"It was lovely to work with the Bike'n Blend team. They were professional, engaging and enthusiastic! We will definitely re-book!"

"Thank you for your help. We had a message to deliver on sustainable energy and the addition of the bikes not only brought a smile to everyone's face but delivered the message with significant effect."
We are in MELBOURNE, SYDNEY and BRISBANE
Promote FUN and WELLBEING in the workplace!
We provide BRANDING (bikes/tables/A frame/cups)
Promote cycling, healthy living and sustainability at events
Make your next event a fun and healthy success! We have over twelve years of experience running unique pop up events. Choose from one of our popular packages or contact us for a quote before we are peddled out!
Create a memorable corporate event that is fun, innovative and promotes sustainability.
Great for:
Team well-being
Team building and staff engagement
Corporate events (brand engagement and promotion)
Brand Activations
Awareness Events
Our Favourite Packages
Tandem Package
Ideal for people who can do their own food shopping and want to run the event eg. birthday parties, gym open days, school or rural events.
Tandem Tasty Package
We'll take care of the menu and shopping, you run the event. Perfect for University open days, student/staff wellbeing events and rural events.
Tour de France Package
Perfect for outdoor events. Rain, hail or shine we've got you covered with our all-weather marquee. Branding options available.
Frequently asked questions
How long does it take to make a smoothie?
It only takes 30 seconds to pedal a drink but you can stay on and keep going if you wish! Its loads of fun and very easy for young and old!
Does Bike n' Blend work better indoors or outdoors?
Bike n' Blend is great for both outdoor or indoor events. For out door events we find the 'Tour de France' Package works best as we provide the required shelter (our marquee) and hot water washing facilities in this package. All other packages work well indoors if there is a kitchen near by.
Do you have kids sized bikes available?
Yes! Our fleet includes small blender bikes that are perfect for younger children aged 5-10 years (depending on their height), as well as large blender bikes (perfect for kids 10 years and up). Availability can vary depending on locations and dates, so best to get in early!
Can customers make their own drinks?
Yes! We encourage all of our customers to blend their own- we think it is more fun and engaging that way. Almost anyone can use the bike blenders- children aged four and above, teenagers, adults, and even sprightly pensioners can comfortably use our awesome bike blenders. Our staff are also keen cyclists if you would like us to lend a hand (or leg) at any time too.
What if I want something on top of what you usually provide?
We love to hear interesting ideas! Give us a call or email to discuss the details and we'll do our best to meet your request.
Can we charge people at the event for the smoothies?
This is up to you and depends on your event. If you're trying to raise awareness around health and sustainability then you might decide to give the smoothies away for free. We find that this works well. For school fetes and fundraisers we suggest you charge $4-$5 per smoothie.
Do you need washing facilities or power?
Yes. It is not necessary to wash the jugs between every use but it is best to wash the jugs every 30 minutes. This access to running hot water is required for food health and safely. We provide a hot water washing unit in the 'Tour de France Package' (battery powered). No power is required for any of our events- just pedal power!
How many smoothies can you make?
This depends on how many people there are and how many staff and bikes you have. Each event is different but as a guide; we can typically cater for 100-200 people in two-three hours with 2 staff and 2-3 blender bikes. For a busy school fete you can sell up to 300 smoothies in 5 hours with 4 volunteers and 3 blender bike. If you are unsure of how many drinks you need please give us a call and we can guide you – we are smoothie experts here to help!
Do you sell your blender bikes?
Please get in contact with us to discuss this option.
How does booking and invoicing work?
To confirm your booking please complete our booking form. We will check our availability and confirm your booking by email within 24hr. We do book out in the warmer months so it is best to book in early to reserve your smoothie bikes! Invoices will be issued once the booking form has been received. Payment and cancellation terms are described in our Terms and Conditions found at the bottom of the booking form page.
Do you have public liability insurance?
Yes. We implement a range of policies and procedures to ensure our bike blenders are as safe as possible for our customers and for members of the public. We have public liability insurance cover for up to $20 million and can send you a copy if you request it in your booking.
What do you bring to an event?
This depends on the package you choose. Please see our Packages page for more information on the available options or give us a call and we will happily run you through it.
What our happy healthy Bike n' Blenders are saying
"It was lovely to work with the Bike'n Blend team. They were professional, engaging and enthusiastic! We will definitely re-book!"

"Thank you for your help. We had a message to deliver on sustainable energy and the addition of the bikes not only brought a smile to everyone's face but delivered the message with significant effect."

"The Bike n' Blend team is fantastic! They went above and beyond to ensure our expo site was a success. Our visitors loved the blender bikes so much we won an award for the best site at the Melbourne Disability Connection Expo as voted by attendees. We highly recommend them and will definitely be using their services again."

"We had a staff engagement event at our medical practice with Bike n' blend and it was fantastic. The team that came to work the event were great and so engaging. All our staff loved it and got into the excitement of it all. Everything, including the  awesome set up was on point. Would highly recommend for a great team building activity."

"The staff were incredibly accommodating and hardworking. It was a busy day and they kept their spirits up well! The overall activation with Bike n' Blend was very engaging and delivered on the brand awareness we were hoping for. Bike n' Blend was fun, engaging and too easy! We got through crowds of people with many coming back. Corresponding with Sabina leading up to the event and working with Josh and Eddie on the day was awesome. Thanks guys!"
We blend sustainability into everything we do!!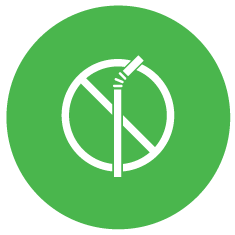 Straw no more!
We do not use straws or lids at any events and encourage our customers to do the same
Zero waste!
We do not contribute to landfill at our events, recycling and composting all our waste
Fighting food waste!
We donate any leftover ingredients to charities like Oz Harvest and the Inconvenience Store
Fighting Disadvantage!
We donate to Unicef, helping children and young people every day, across the globe.
Carbon Neutral!
All carbon produced from our vans, flights and paper is offset with Green Fleet.